An inside peak of Leadership Council: Q&A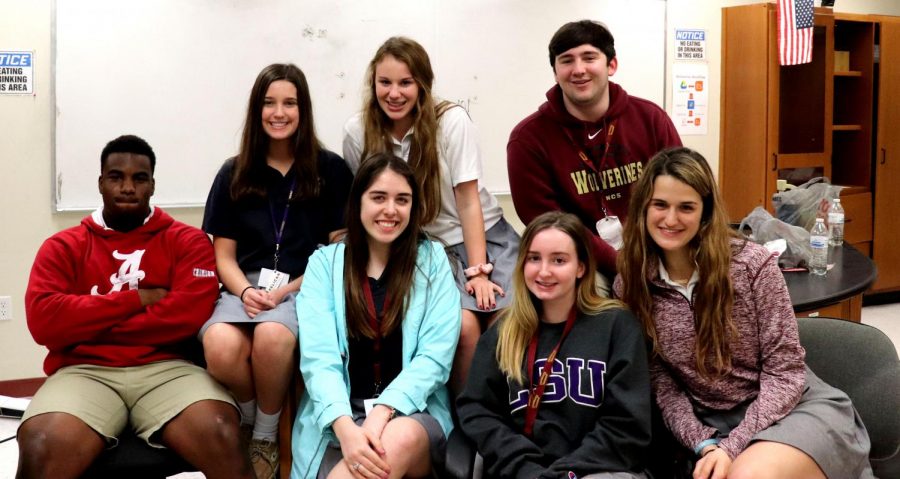 Kara Lewis, Staff Reporter
February 8, 2018
What is leadership council?
"Leadership Council is a group of students who enjoy leading many of the fun activities for students on campus. Leadership Council also is the voice for the entire Student Body and Senior Class," Leadership Council president Morgan Marullo indicated.
"Leadership council's main purpose is to plan, organize, and execute different events for the student body. We also bring the ideas of the student body to the administration for approval," voiced Senior Class Treasurer Tayler Cook.
What impact do you see on the students from Leadership Council?
"The Big Brother and Little Sister Program was brought back this year, and I have seen the students become better connected because of it," Marullo commented.
"I think it's important, especially in a Christian school, for students to not just have teachers and administration to look up to, but also students. I hope this position gives students seven seniors they can look up to as a positive role model, something I don't take for granted," said Student Body Treasurer Taylor Bourgeois.
"The impact that leadership council has on students is that it teaches them valuable tools in organizing, collaboration,and assist in building a school culture," Leadership Council coordinator Sherri Alker commented.
Why did you run for Leadership Council?
"I ran for Leadership Council because I really wanted to be a part of an incredible team that is leading many of the fun activities for the students, and I really care about the school. I enjoy watching the classes come together, creating memories that will last a lifetime! Working with Ms. Alker, Mrs. Vega, Coach Watts, and six great leaders/friends has been awesome and a tremendous blessing," Marullo said.
"I joined leadership council to try and make a difference in the school as well as serve my senior class," Cook said.
What does Leadership Council do?
"Leadership Council plans many of the activities (homecoming, dances, dress down days, game themes, chapels) and helps teachers, administration, and Student Senate Representatives with anything they may need," Marullo said.
"Leadership council helps the student body feel more connected to the school. We do our best to send out surveys and ask the students opinion on what they would like to see different in our school. We accept any suggestions from students on new ideas for school dances, after school events…etc," Cook explained.
Why does Northlake Christian call it Leadership Council?
"Leadership Council is Student Government. Although we call it Leadership Council, it is the Student Body Government Organization of Northlake Christian School," Marullo explained.
"This is a group of elected students that lead the student body by organizing  school events, lead them in their spiritual walk with Christ, and implement change," Alker said.
What's one fun thing about Leadership Council as a whole?
"One interesting fact about Leadership Council is that our favorite fast food restaurant is Chick-Fil-A," Marullo laughingly said.
"It is a small group of students so I get to know them not just on an academic level but personally as well. We get to plan engaging and fun activities for the whole student body," Alker said.