Band director expresses need for musical influence in students' lives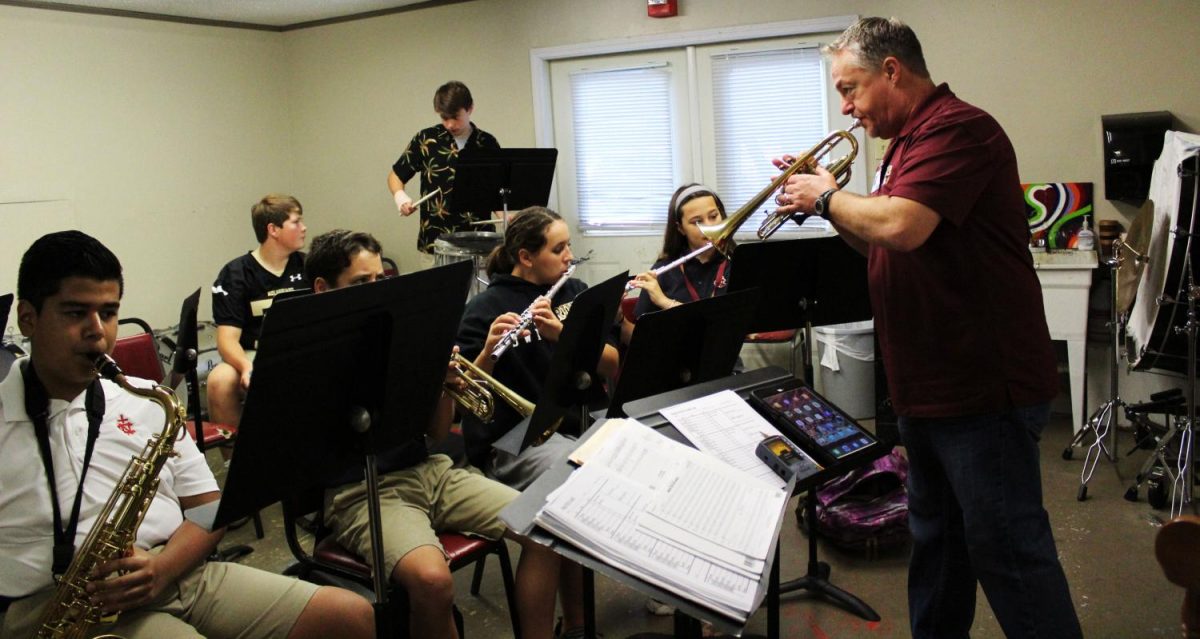 Gabby Messina, Staff Reporter and Times Picayune Correspondent
September 21, 2017
The Northlake Christian Upper School Band is under the direction of seasoned band teacher Gary White. White has been a band director for over thirty years and began teaching at Northlake in 2016 after the current teacher, Jordan Beard, resigned from his position. His musical career was inspired at a young age. He began playing the drums in fifth grade, and then went on to self-learn numerous instruments.
"I always knew I wanted to teach," said White.
His inspiration stemmed from his junior high band director.
"In the fourth grade, I heard a concert, and he was conducting. And I said, 'I want to do that.'"
In his first year, White was able to teach many students the importance of music in their lives.
"The band kids have such strong bonds. We're like a big family," said snare drum and bass player Avery Butler, a Northlake Christian junior.
The members are able to support each other and serve the Lord in the process.
This year, the band will be performing at the annual Fine Arts Concert, the Spring Concert and the football games. Many hours of practice go into making each performance sound amazing.                                                                                                             
"It's hard finding music that's playable for a small group, but it sounds like it's a big group when they do play," said White.
The Northlake Christian Band consists of 34 members, with the oldest being high school juniors and the youngest in the middle school. The middle school students, however, do not play at the football games.                                                                     
White plans to explore new revenues with the members in the near future. He hopes to be able to take the students on trips to play with bands from other states, or to have professional musicians come to Northlake to teach students about music's impact.                                                                                                                                                                                                                      
The Northlake Christian Upper School Band has been working hard this year, and hope to deliver more spectacular performances in the future.