Students and faculty gather on field to observe solar eclipse
Hang on for a minute...we're trying to find some more stories you might like.
As students rushed onto the field to experience the rare phenomenon called the eclipse, the temperature slightly dropped. The solar eclipse took place on Aug. 21, 2017 and Northlake Christian students were able to experience this.
"The eclipse is what happens when the moon passes between the earth and sun," said senior Seth Bertus, one of many students who learned about the eclipse and experienced the event on Northlake's campus.
According to environmental science teacher Dr.Betty Porter, the eclipse is a very important event. Northlake faculty cited God's power as the reason for this extraordinary experience.
"It's an event that shows God's power," said Porter.
The solar eclipse only lasted minutes, but millions everywhere gathered for these few spectacular moments and enjoyed something as one. Northlake students gathered in the early morning and used many different devices to view the eclipse.
Students and teachers wore special glasses as a precaution from experts. Many students had cereal boxes with tinfoil on one side and many others had special glasses to view the eclipse safely.
Students from the Lower School to the Upper School viewed the eclipse in awe. Teachers walked around helping students, using the eclipse as an opportunity to teach and lead. Excited whispers flowed through the crowd as students were waiting for this event to occur. Although many loved the experience, some students were disappointed by the eclipse, because unlike Nashville the sky did not get dark.
After the eclipse, students shuttled back into their classrooms. Some teachers used the event as an educational opportunity. Northlake students watched news coverage and had discussions about what occurred on the field in various classes including Civics teacher Charlene Kazan's class.
Not only did the school gather to watch the eclipse, but even Northlake's military affiliation Civil Air Patrol took notice. Civil Air patrol Lieutenant James LaChute brought his entire squadron to Tennessee just to view this unique event. 
Northlake Christian students were able to experience a once in a lifetime occasion.
About the Contributor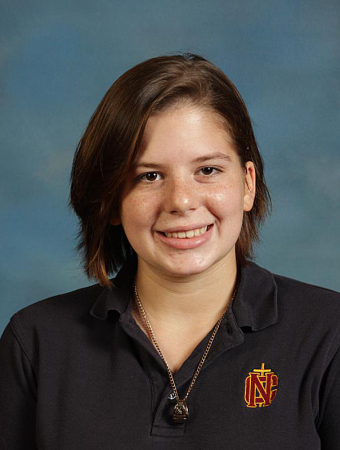 Laken Viola, Staff Reporter
Laken Viola is a senior at Northlake Christian School. She is planning on going to Louisiana State University where she will get a masters in Library Sciences....