Northlake Christian partners with OWEL Project to host Diaper Drive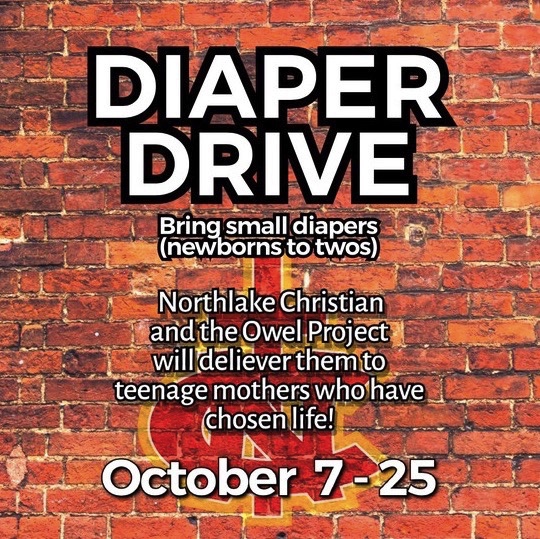 Colton Leggett, Editor-in-Chief
October 8, 2019
Northlake Christian is partnering with The OWEL Project (Ordinary Women Extraordinary Lives) and hosting a Diaper Drive for mothers who have chosen life over abortion. This Diaper Drive will be running from October 7th to October 25th.
The OWEL Project is a ministry that helps pregnant teenage girls who are in the foster system or have been in it. According to the OWEL website, their aim is to "showcase to girls all of the opportunities and careers available. We aim to equip them with real-life applications and guidance needed to have a solid foundation in life." An important part of this, is providing basic necessities that may otherwise make it impossible for these young mothers to raise their children. Investopedia.com reports that the average baby uses over 2,700 diapers in the first year, a cost that can reach upwards of $550 per year. Add in the $20 a month for wipes, and you've got quite a bill. Remember that this does not even include other essentials.
Every couple of months the OWEL Project holds baby showers for these mothers, giving them much needed support. They help mentor them from their early teenage years through young adulthood. They hold workshops with career connections, job opportunities, and seminars that teach the young women how to do things such as making a job resume. This is an amazing opportunity to help the great cause of defeating abortion. 
You can bring small diapers for babies who are newborns to two years old. These diapers can be dropped off to the front office of the Upper School. These diapers will be delivered directly to the moms.