Northlake soccer returns home with Division IV State Championship
"We don't have the best players in the state and we know that, but together as a team I think we are the best in the state and tonight I think we proved it."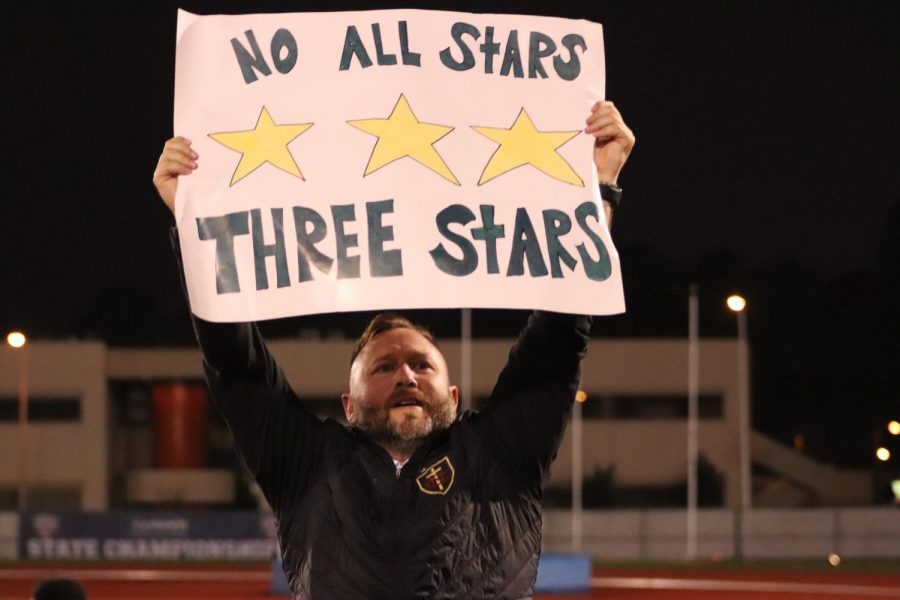 Kara Lewis, Editor
February 27, 2019
"We just had to stay positive all year. That's been our mindset. We don't have the best players in the state and we know that but together as a team I think we are the best in the state and tonight I think we proved it. We haven't gotten respect all year. None of us were selected for the All-Star team but this is much much better than that. Much better," senior midfield captain Garret Acosta said in an interview with Fox 8.
Never underestimate the power of a team built around hard work and dedication. Northlake Christian Men's soccer won the Division IV State Championship on Saturday, Feb. 25. Northlake faced their rival Isidore Newman High School, who had previously beaten Northlake, 3-1, in the regular season.
"[I was] not worried. Our team during the playoffs was much more confident and much better as a unit than when we had played Newman the first time," junior forward Dallas West said.
Northlake was able to keep the score at zeros for the duration of the first half but went down 1-0 early in the second half.
"As soon as they scored I looked at the time and it said 27 minutes and I realized that we still [had] this game and there was plenty of time left for the team to pull it together," freshman midfielder Jace Windom said.  
Northlake's student section was stressed out about the score as the clock quickly wound down, but they kept their spirits up, trying to get their team back in the game hoping for a goal to send them to overtime.
"As a student section, we tried hard to keep our spirits up even though we were down. When Garret scored it brought us back to life and we went crazy," senior Ashley Whelan said.
This was not the first challenge Northlake would face this season. All year Northlake overcame many obstacles. They fought hard to beat teams statistically better and persevered as a team after losing starting forward, Caleb Lewis, to a brain injury, having their starting goalkeeper, Justus Windom, out for several games with a broken wrist, and Acosta continually struggling with an ankle injury.
"Losing Caleb was really tough. He was a massive piece in the puzzle and losing Justus was just as tough. I think that's why, during the year, we really struggled to find our identity. We came together as a team and I was back to 100 percent when the playoffs rolled around and I think it's evident because of the score lines and the teams we beat. Everyone was able to step up," Acosta said.
Even with these struggles, non-starters stepped up in big ways, earning them playing time and changed the outcome of every game. One of these game changes was senior forward Riley Ireland.
"During the season he was a specialty player. I kept him on the field because he could play his position well. We used him for long throw-ins into the box and in the playoffs, he was a bigger threat. In the playoffs he scored four big goals," head coach Nick Chetta said.
Compared to most teams in the state, Northlake did not have one player who did it all, instead they were a complete team and took to the motto of 'No All Stars', implying that no one person can win the game alone.
"The motto really came as we prepared for our revenge match in the semis. It served as sort of our tempo for the game as we started to come together as a team. We had to recognize that no one player was going to get the job done based on their talent alone and that it would come down to the entire team working as a unit to get the job done and we did. [It] just stressed the bond we all shared and the family structure that our team took on," senior outside back Harrison Fontenoy said.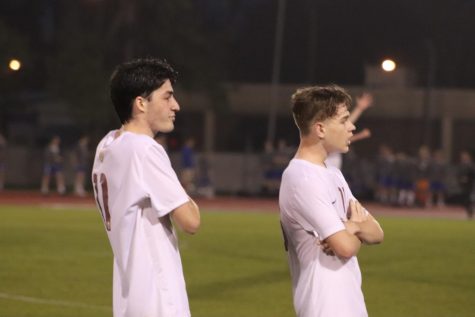 One of the biggest examples of the 'No All Stars' theme was the win against Episcopal School of Acadiana (ESA), who had not lost a game in two years including beating Northlake 5-0 in the state final during the 2017/18 season. Northlake won 4-2, with ESA's goals coming from two pk's, in the last 20 minutes.
"The ESA game was so important to us because we wanted a rematch. We went into the game knowing that the entire state thought we'd lose and that motivated us. Even though it was the semifinal and against the 'unbeatable' team, we went with the mindset of it's just another game which I think helped us control the game," senior midfield captain Luke Smithson said.
No single player won the ESA game for Northlake, as the team played one of their best all around games, shutting down Parish Anderson, who was named All-Acadiana MVP during the 2018 season, scored a hat trick during the 2017/18 final, and arguably one of the best players in the state. However, during this match, Anderson was almost non-effective as senior center back Ian Lopez, was set to mark Anderson.
"I was looking forward to it all year. He ruined my last season and I did whatever I could [this year] to win," Lopez said.
Through lots of training and hard work, this team persevered all year with their talent paying off, landing them a spot in the state final. They beat the number one, two and four seeded teams in the playoffs, when most critics said they would be knocked out in the first or second round.
"The boys took it personal that people didn't give them a chance. As a team, we felt that we had faced enough adversity through the year, so the teams in front of us weren't as intimidating," Chetta said.
With five minutes left in the final, Newman fouled Ireland about 40 yards out. Acosta stood over the ball, looking at the goal. He took the kick and placed the ball perfectly over the defensive line, beating the keeper back post placing it in the top left corner.
"Oh no. Overtime," senior goalkeeper Justus Windom said he thought when Acosta scored the first goal.
A tie would send the two teams into overtime and Northlake did not want that to happen. They kept pushing and with under two minutes left they fought hard to get a deep throw-in which Ireland threw far into the box and Windom took a shot that went out for a corner.
Acosta took the corner kick and with great technique and skill was able to bend the ball enough to put it past the goalkeeper and cross just over the goalline.
When the final whistle blew, Northlake fans and players went ballistic, with screams of joy echoing across the stadium and chants about Northlake could be heard all around. Several players cried, some ran to hug friends and family, but everyone was extremely proud and ecstatic.
"It was honestly unbelievable after that final whistle blew because of the way it played out. A sense of relief came over me because I knew I was able to bring Chetta another championship and to me that's all I ever wanted," Acosta said.
Acosta was rightly awarded MVP of the game and his team and fans rallied around him in the acceptance of this award. Justus Windom played an outstanding game, having many key saves that kept Northlake in the game.
"We were able to win as a team. Truly one of the best years of soccer of my life because of everyone on the team," Acosta praised.
"We worked all season knowing we were the underdogs and [there was] no pressure on us," Smithson said when thinking back on the season
The Northlake student body came together and held a pep rally for the team. The students celebrated, watched a highlight video and cheered on the team as they presented the trophy to Headmaster Glenn Martin and Principle Jenni Vega.
"It was a story book season. The adversity we faced during the year, to the lack of individual talent, to losing Caleb, to the team coming together, and the lack of belief from the state in us, it's amazing. You read things like this but don't often experience them. It was life changing," Chetta said.