AP Art added as course offering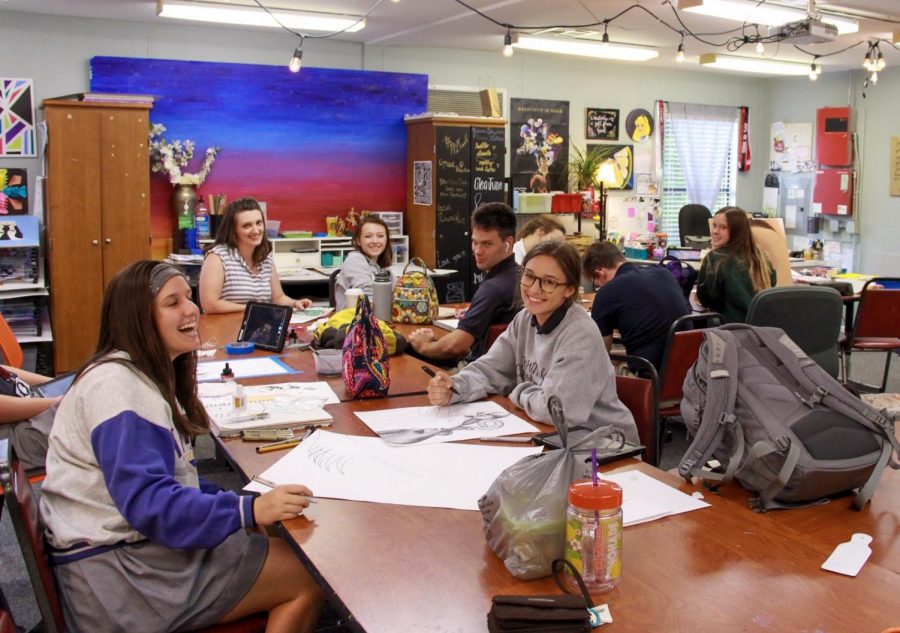 Emma Hubert, Staff Reporter
September 7, 2018
While education is a central and founding component of all AP classes, students in AP Art have found an environment also enriched in peace and passion. Northlake Christian School has started its first year of AP Art taught by Maria Gatto, who has been teaching art for two years.
"This class is literally the best pick me up ever, it's so relaxing," senior Jeanna Bellan said.
The students also enjoy the class due to the calming and encouraging work atmosphere where they can not only spend time taking a breath from a hectic day, but work on their personal growth as an artist.
"It's relaxing, encouraging, and has a really cool laid back vibe. All while fostering progress," junior Bella Elias said.
This class encourages students to work and improve their skills for what they are passionate about.
"I'm passionate about art because it gives me free range to totally express myself," Elias said. "Art is literally the best outlet for all of my emotion and anything I need to get off my chest. It is the biggest stress reliever ever and never fails to put me in a better mood. I started when I was young. I was always in art class, anytime I was allowed to doodle, I would."
Students are not only getting AP credit for the class upon passing, but they are learning more techniques and skills they can apply to their works.
The class not only helps students grow as artists, but also reminds Gatto of her roots as an artist.
"It absolutely helps me," Gatto said. "Some of the concepts that I try to teach the students in their own artwork, I'm reminded what I learned while I was in school and apply it to my pieces. Also, trying to foster and develop the students creativity allows me to stretch mine."
To participate in AP Art, students must pass Art One and Two, and should be selected by Gatto.
At the end of the year, each students' projects will be sent as a portfolio to the College Board for review.
"Throughout the first semester, students work on what is called their 'Breadth' section, which explores their knowledge of the elements of art and principles of design. The lesson plans during this section and the first semester could entail various themes and/or mediums. The next section is their 'Concentration' section that is completed during the 2nd semester. This part of the AP portfolio will be entirely based on a theme or idea which will be visually represented. Students are required to submit 24 digital images of the work that they created by the end of the year. Five of the actual works will be submitted and shipped to the College Board for reviews" Gatto explained.
Gatto ensures to teach all necessary foundational concepts, but also teaches each project and section in a very independent manner, while offering guidance to each individual students' needs.
"I try to teach in a structured manner when trying to teach different foundational concepts," Gatto said. "However, I also like to have a good balance, where the students have the freedom to make creative and critical choices in their artwork, while learning the content. While teaching the content, I like to assign a specific project based on that artistic technique in order for students to learn the material while being hands on in the process of making amazing artwork."
Through the course of the year, students will grow in their understanding of artistic concepts and techniques, and grow as artists through real-life application, as they utilize such ideas into their own work.