Northlake holds Senior Chapel for Class of 2018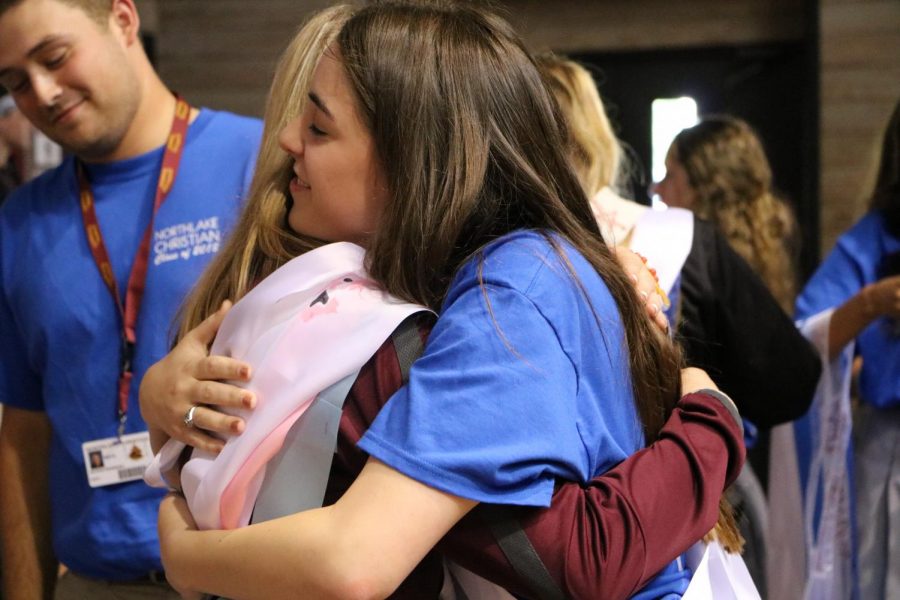 Colton Leggett, Staff Reporter
May 8, 2018
Northlake Christian held its annual Senior Chapel on Tuesday, May 1 for the Class of 2018. Senior Chapel aims to send the senior class off in a way that lets them know they are appreciated, allows them to reflect on their high school years, and also offers them advice as they head off into their next big journey in life.
"I'm gonna miss some stuff for sure and it was a good experience," said senior Wesley Brown.
A slideshow presentation over eleven minutes long was shown that displayed memories the class of 2018 has experienced together throughout their high school careers.
"I loved senior chapel,  and I'm so excited to enter into the next part of my life. But as the video was playing, I reflected on my four years at Northlake and how they flew by," said Brown.
Senior Abigail McLain reflected on how she felt during senior chapel.
"It was bittersweet. It was fun to get to see old and recent pictures of our class, and to see how much we have grown over the years, but it was also sad because I knew that our time together was coming to an end," said McLain.
Even though many have sat through senior chapels throughout years, it was surreal to sit through their own.
"It was really emotional watching the slideshow with all of my friends. I've been through so many senior chapels and I never imagined I'd be sitting there one day," said Cunningham.
For many, students and faculty alike, this chapel in particular can be considered heartwarming, as well as bittersweet. For many students, it means coming to a realization that this is the last week that they get to go to school with some of the people they have grown close to before they graduate. As for some of the faculty, they get to see the end of the journey of high school that they have watched these seniors go through since their freshman year. They have watched the seniors grow up from young adolescents to young adults. Even for the teachers that have not been at Northlake for that long, maybe even just a year or two, they, too, get to reflect and be proud of this senior class which they have come to know and have developed relationships with.
"It felt surreal honestly. You watch the senior chapels over the years, and you never think that one day that will be you. This year went by so quickly, and I was thinking, 'Wow, here we are having senior chapel, and spending some of our last moments together,'" said McLain.
The seniors themselves expressed a variety of feelings–from excitement to feeling nervous about the road that lies ahead.
"It's really hard to leave the school, but the hardest thing is leaving my classmates. They are my best friends," said Cunningham.
Even through the excitement of starting a new chapter, many seniors expressed the bittersweet feeling of leaving Northlake–a school that holds a special place in their hearts.
"I will definitely miss being around my friends every day. The people at Northlake have become my second family, and it's going to be hard not being around them all of the time," said McLain.
This year, teacher Tom Beale spoke at Senior Chapel. Beale centered his message to the class of 2018 around one word: honor. He emphasized to the seniors that they should honor the good things and people in their life- the right things- and not the bad.
Along with honoring the senior class, Senior Chapel allows the seniors to honor and recognize the underclassmen that each individual senior has a personal relationship with. The seniors are given the option to make sashes or write notes to their favorite underclassmen to let them know they have had an impact on their lives in some way. This part of chapel is something most seniors look forward to and enjoy.
"It means you're about to graduate, but it's also the time where you get to say your goodbyes and embrace the underclassmen that you have friendships with," said Brown.
Along with this, the seniors write a "senior will" that is sent to the entire school. In these, the seniors are allowed to once address certain people of their choosing, as well as address the school as a whole, or to reflect back publicly on their high school experience.
High school teaches you a lot of lessons and gives you many different experiences.
Touching on her high school experience, Cunningham commented, "The most important thing I learned in high school would have to be that it isn't the best time of your life unless you make it that. You have the choice to make every day the best, and make the most of what you have. Love your high school friends because they help make it bearable and fun."
The Class of 2018's senior year and time at Northlake is officially coming to a close, but as the saying goes, "Once a Wolverine, always a Wolverine." The Class of 2018 will officially graduate on May 18th at 7:00 P.M. at Church of the King.