Students' Creativity Shines in Annual Art Festival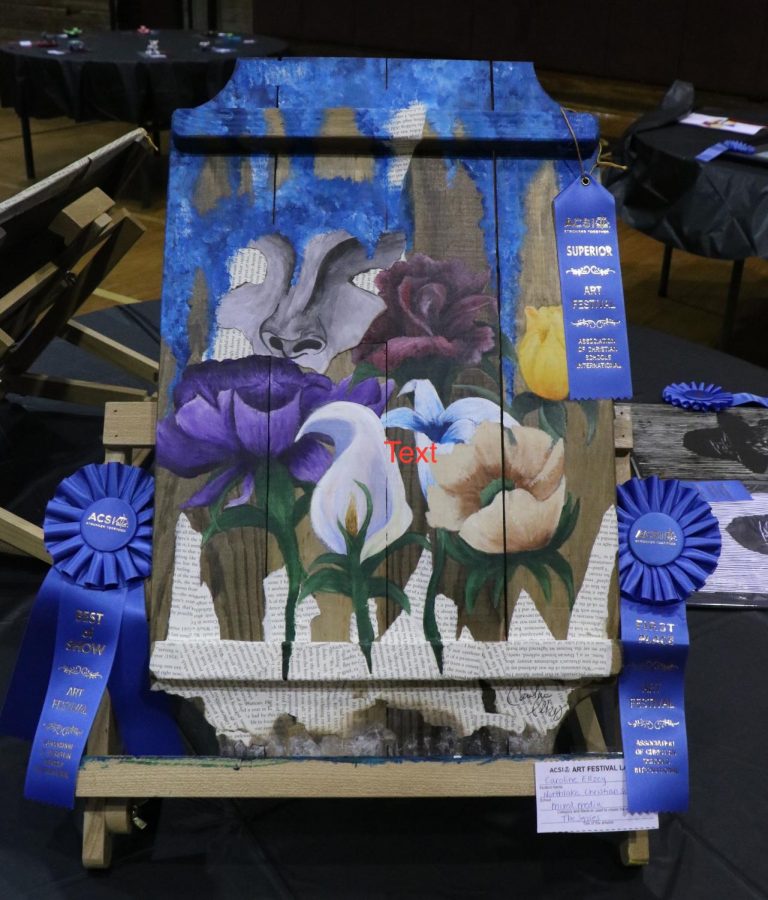 Gabby Messina and Thomas Morton, Staff Reporter
April 19, 2018
A week that is quiet for the majority of Northlake Christian, may be the most anticipated for the school's Fine Arts Department. For the second year in a row, Northlake Christian participated in and hosted the annual Association of Christian Schools International Art Festival in the Woodshed.
On Friday, April 13th, 108 students from four different Christian schools gathered together in Northlake's Wood Gym to participate in the festival. Northlake Christian School, First Baptist of Slidell, First Baptist of Lafayette, and Victory Christian School all submitted art pieces created by incredibly talented art students.
For some, it was a chance to finally display their work and have it critiqued. For organizers, however, it was a rush to make everything perfect for their students.
"The experience of organizing the Art Festival this year was very fun and rewarding, yet challenging, as well," said art teacher Maria Gatto. "I'm always the one to like a little challenge, so working through all the details made the experience as a coordinator that much more gratifying."
This year, twenty seven Northlake students placed either first, second, or third in their respective categories, including Black and White Drawings, 3D Sculptures, Mixed Media, Ceramics, and Paintings. Caroline Ellzey, a Northlake Junior and captain of the dance team, was awarded the honor of Best In Show with her mixed media piece "The Senses."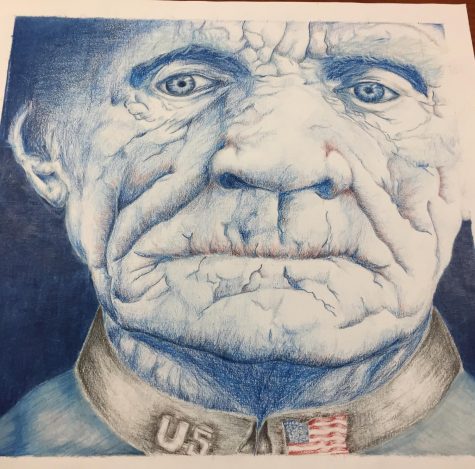 Isabella Elias, a Northlake sophomore, received a second place award for a separate, national competition, and was given a scholarship for her work: the painting of a grizzled war veteran, shaped and molded by the things he has seen
Junior Jeana Bellan, who placed second in the 3D Sculptures category and third in Black and White Drawings, explained, "It was awesome to see all of the different projects everyone had been working on and to see what other schools are learning about."
Northlake's art teacher Maria Gatto was thrilled with this years results, not only because of the time she invested into planning the event, but because she was able to showcase the incredible talent of her students. In the end, their talent and her instruction paid off.
"I was very pleased with the end results of the Festival. I am so proud of each one of the students from Northlake that participated, whether they placed or not. It just goes to show the level of talent that each student possesses" said Gatto. "The talent level that these students hold is something that can only be God-given. The submissions exhibited also exhibited a wide range of mediums, which shows talent across the spectrum."
The future is bright for the Northlake art program.
"I am very optimistic about the future of Northlake's Arts program, while the students continue to grow and develop artistically," said Gatto. "I'm passionate about the Arts program here at Northlake, and my vision is to see more students, parents, and faculty involved. To raise awareness of just how important the arts are in a student's academic career is something I hope to see blossom even more than it already has in the years to come. "
Kate Boudreaux, Fine Arts Teacher, also acknowledged the talent seen in the many art students. "I'm so glad to have been a part of this event, and I know that the seniors in our Praise Band were incredibly proud to perform for the festival. It was such an honor to see how talented all of our students are. I think that says a lot about [Northlake], how passionate our students are, and how much we are developing as an art program."
The Fine Arts Department, administration, teachers, and students made this event possible, and brought amazing talent along with them.