NEW Bath and Body works! Pt2
Reporter: Ava Samm 
18 January 2022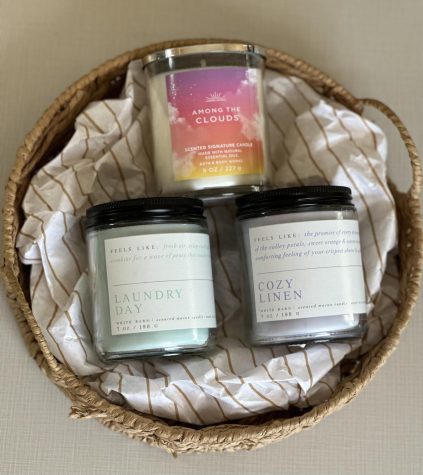 Last week I did an article on new products from Bath and Body. I have taken it upon myself to get different opinions on a few of these products I have bought.
New collection  'Among the Clouds' candle description: soaring through the clouds—airy, uplifting and sweet. Fragrance: wild berry skies and whipped vanilla clouds.
My Opinion- lightly smells like berries and a weird perfume
Mrs. Thomas- smells like Popuri(leaves and sticks, used by older people)
Kate- smells like the Kirklands store
'Lavender Vanilla' set candle description: a dreamy bedside bouquet. Fragrance: lavender blossom, creamy vanilla, white woods and sugared musk.
My Opinion- smells more vanilla than Lavender, I don't mind it
Ms.Eaglin- smells just like the name
'Cozy Linen' candle description: a heap of so-soft, so-cozy blankets.
Fragrance: lily of the valley petals, sweet orange and cotton musks
My Opinion: heavily smells like Downy blue fragrance beads, love it
Mrs Thomas- smells like freshly clean wet clothes
Kate- laundry detergent, when you open the laundry machine
'Laundry Day' candle description:a basket of laundry, fresh from the clothesline. Fragrance: fresh air, crisp eucalyptus and soft lavender.
My Opinion: smells slightly like washing machines fragrance beads, with slight flowery smell
Mrs.Thomas- Tide or Gain detergent
Carley- blue scent booster
Kate- Stuff you make slime with
 'Rose Vanilla', the body cream description: a sweet, smooth floral created to inspire all the love. Fragrance: rose essential oil and vanilla absolute.
Ms. Eaglin and I didn't like it at first, for it smelled like chocolate and we are not into food smells. Yet after a few minutes, it smelled more like roses. Ms. Eaglin smelled more of a vanilla smell than I did.

Resources:https://www.bathandbodyworks.com/