Weather Under The Sun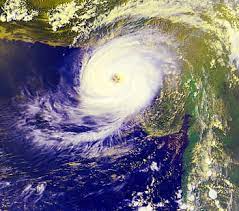 The 2021 Atlantic hurricane season is predicted to have an above-average number of storms. Although, it will not be as active as last year, according to the National Oceanic and Atmospheric Administration's initial prediction ( released on May 20). NOAA forecasted 13-20 named storms, six to ten hurricanes, and three to five significant hurricanes for the 2021 season.
According to The Daily Advertiser.com, "Last year, the Atlantic saw 30 named storms, 13 hurricanes and six major hurricanes. The average is 14 named storms, seven hurricanes and three major hurricanes, according to NOAA's updated averages for the 1991-2020 30-year period."
Hurricane season began in 2021 on June 1 until November 30. 
10 STEPS TO PREPARE FOR A HURRICANE
According to Chubb.com, here is the best way to prepare for hurricanes and hunkering down:
Turn off all utilities and follow the community's emergency preparedness measures if an evacuation is required. Choose a central meeting location or a single point of contact for the entire family. Have a plan in place for your pets' evacuation as well.
Large trees and bushes should be pruned, and all outdoor patio furniture, potted 
plants, bikes, and toys should be brought inside. Secure outdoor sculptures with burlap or blankets fastened with rope if required.
Shutters or impact-resistant glass can be used to protect windows, doors, and skylights. As a last-minute measure, nail pieces of plywood to window frames.
Check Wall Hangings And Art
Make sure your wall hangings are secure, and make a list of your art collection and any damage. Make sure that any art that is hung on the outside of the house is brought inside and elevated off the floor.
Move cars to higher ground or park them against the garage doors in your garage. Park away from trees, electrical lines, and low-lying places.
In case of a power outage, fill up your car's petrol tank, charge your phone, test your generator, and have plenty of fuel on hand.
Appliances and other household items should be moved away from external doors and window openings. Place them in interior closets or cabinets.
Store Important Documents
Important documents, such as legal papers, birth certificates, marriage licenses, financial papers, and insurance policy information, as well as valuables like jewelry, should be kept in a safety deposit box or a bolted safe in an inside closet in your home.
Bring flashlights, a portable radio, additional batteries, nonperishable food, bottled water, cash, blankets, clothing, and toiletries with you.
This enclosed space should be located on the first floor, in the center of the home, and should have no windows. Until the storm passes, stay away from all vulnerable windows and doors.
Here is the current bar graph, from the Daily Advertiser.com, depicting the forecasted hurricane names and whether or not they will become major problems for Louisiana. 
https://infogram.com/2021-hurricane-season-forecasts-1h7g6k0jm73802o
According to the chart, Louisiana is predicted to have 5 major hurricanes. The chart will also give the best and efficient data for your Hurricane knowledge. Make sure you are aware, and don't take any chances!