Mardi Gras 2021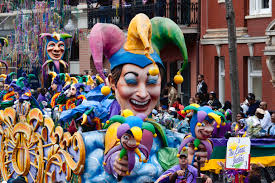 Is Mardi Gras going to be canceled in 2021? It's yes and no. Yes, because New Orleans is not having any attend able parades due to covid precautions. No, because people are thinking about pushing back parades and other fun stuff until May 2021.
It is definitely going to be different this year. According to the Washington Post, "Mardi Gras celebrations in 2021 will not include New Orleans' traditional parades, which take place every year to mark the carnival season."
Jefferson Parish is thinking about having parades in May, but they don't want to call it Mardi Gras, according to MyNewOrleans.com.
NewsBreak.com continues, "The city council in Jefferson Parish is hoping they can do, but with COVID-19 cases being so un-sure, no decision has been made quite yet." There is just a lot of stuff that is all confusing about this event.
According to Nola.com, in 2019 Mardi Gras celebrations brought in $145.7 million dollars through direct Mardi Gras related sales. It also brought in another $322 million in tourist dollars for non-related sales. Instead of canceling Mardi Gras, it has now been "reinvented," according to Nola.com. A 3 day, 4 ½ hour online event called, "Mardi Gras For All, Y'all" will display music, parades, and celebrity appearances to give the world a chance to join in on the celebrations. It is geared to be a "unique event," that piques viewers' interests and hopefully inspires them to consider vacationing in New Orleans once covid is finally over. The question is: Will this televised event, the "new Mardi Gras," be enough to bring tourism back to New Orleans?