Man's best friend: Scotty helps students in classroom
Teachers everywhere who are passionate about what they do are always looking for ways to help create a positive learning environment for their students. However, Mr. Sid Galloway, a teacher at Northlake Christian, does so in an unconventional way— by bringing his service dog, Scotty, to work every day. He believes that one benefit of doing so is providing students struggling with stress and anxiety emotional support in the classroom, especially during and before tests.
"He can pick up when a student is nervous or worried before I even notice it. Sometimes he'll pick up it before they even realize that they're [having] trouble," says Galloway.
One incredible story that speaks on how Scotty has been of assistance in the classroom is about a student Mr. Galloway had years ago who struggled with extreme nervousness before tests. Mr. Galloway says that Scotty was able to help the student relax so they could get through tests more easily.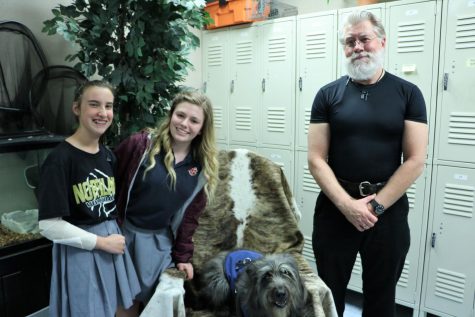 "A long time back [I had] a student that was a really nervous young man. During tests, he would get so nervous that he would actually twist his hair around and pull it out of his head, and as a result, most teachers had him go to a special room where he could be quiet and [the teacher] could be there with him without other distractions. But he always could take a test in my room because Scotty would go over immediately, as soon as he knew he was nervous and lay his head down on his lap."
Scotty is not only a great service dog, but an amazing companion and friend as well. Mr. Galloway even says Scotty helps him share his faith wherever he goes.
"He goes everywhere with me. He's a great evangelist; when I go to coffee shops, people will come over and say, 'Oh your dog is so cute, can I pet him?' So I let them pet him; very very often they will fall apart and cry and say, 'Oh I miss my dog, he died,' and I get to be able to tell them, 'Good news, […] the Bible is very clear animals that can think and feel […] are going to Heaven.' Then I get to tell them, 'They can't sin, but we get to make a choice [to be saved].'"
According to Mr. Galloway, Scotty is actually a "miracle dog" too. He believes God sent Scotty to him for himself, the students, and a greater purpose.
Mr. Galloway explains, "About 9 years ago, I told my wife that the next service dog I [wanted to train] was an Irish wolfhound. They're so big and they shed a lot, so we decided not to [get one]. 2 years later, my daughter wanted me to help get a dog out of the pound for her. So we went and did all that. […] as I'm leaving, there was this cage at the front with this little tiny puppy that they had found, and they had no idea where he came from. He was so cute and he had a great personality so I adopted him, and he turned out to look like an Irish Wolfhound!"
The friendship between Scotty and Mr. Galloway's is undeniable. Many people look up to Mr. Galloway for how he respects Scotty as a design of God's creation. Because of this mutual respect between animal and man, a mutually beneficial pairing has occurred; Scotty helps students and Mr. Galloway, while the students and Mr. Galloway help Scotty feel loved and care for him. This goes to show that we were created to love and cherish animals while being in partnership with them to help achieve God's purpose on the earth.