Four teachers joined faculty for 18-19 year
Most Northlake teachers feel working at Northlake was a calling from God. This year, with four new teachers in the Upper School, it is no different. Aleta Overby, Trinity Thompson, DeeDee Weiss and Jenna Cowart joined the Northlake faculty this past August.
Although each teacher came from a different background, their impression of Northlake upon starting their new position was the same.
"I really enjoyed the interactions with the students. It was refreshing how [engaged] they were," said chemistry teacher Overby, who came from teaching at a public school.
Overby enjoys how involved students are in their school work and their interest in learning new material. She is constantly bragging on her students about how well they pay attention and put in the effort to get above average grades.
Similarly, history teacher Thompson immediately recognized the positive difference among Northlake students.
"They were more welcoming than I could have ever imagined. I got in my car, feeling hopeful about the future," said Thompson about her first day at school.
According to Thompson, her interview process for Northlake went incredibly well. She immediately felt welcomed and was ready to start teaching as soon as possible.
A common theme among teachers is the recognition of the comfortable and welcoming environment found not only in the students, but among the staff.
"My favorite part about Northlake is definitely the feeling of being a part of a family on campus. The students have such big hearts and the staff is so welcoming and helpful," said Certified Nursing Assistant teacher Weiss.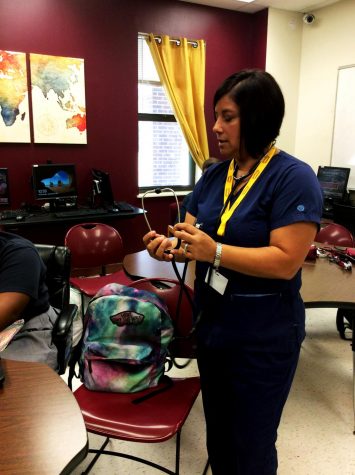 According to Weiss, she loves that her students are so kind to her and to one another. She enjoys watching them interact among each other and seeing the amount of respect that they have for one another and for their teachers. She also enjoys how welcoming and helpful the staff was to the new teachers.
Cowart, who teaches a music class, hopes to pass on her passion for music to her students, eventually seeing them grow in their craft.
"I wanted to try and help in the area of music because I have a passion for fine arts in school," said Cowart.
As the first quarter of the year is about to wrap up, each new teacher is settling into their job and finding their home among the Wolverines.