Varsity cheer team prepares to take on the 2018-2019 year as one
With the football season just beginning, the varsity cheerleaders are back on the field cheering on their Wolverines. Many unseen hours have been put in as the girls have been preparing for the year and building their team up to its greatest potential. Captain Jeana Bellan and co-captain Courtney Mongrue have been working hard to get their team in shape.
Much of the work put in by the team is only seen by their coaches and the girls on the squad. Hours of practice over the summer and after school are poured into cleaning routines, making sure stunts are safe and learning the correct dance technique to avoid such things as injuries and more.
According to co-captain Courtney Mongrue, the team has a natural drive.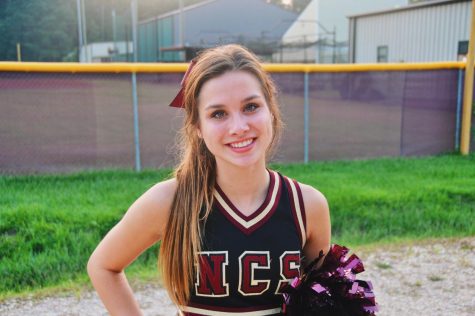 "My team is filled with super hard workers who are persistent and want us to be the best we can be," Mongrue said.
Mongrue is not the only one who has high expectations for this year. Member Molly Ehrhardt has watched the team grow over her four years of involvement and claims that the team is very close and works hard to get where they are now.
"We've all been working really hard with new stunts and new routines and we never give up," Ehrhardt said. "The energy this year is at a high for sure."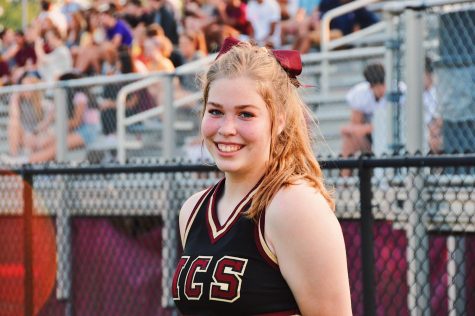 The girls do not only work hard for football and basketball season, however. Every year, the team travels and competes in competitions.
"We are competing in November. We have been working all summer to learn the material and we have designated practices to work on it," said Mongrue. "We have worked so hard over the summer learning all of our dances and now all that's left is cleaning them up."
Being on the team requires living up to a high standard. The girls have all helped the school have more spirit through their leadership. Mongrue credits the Northlake cheer team for helping her and other team members become the hardworking team that they are today.
"Northlake cheer has made me realize that whether I like it or not, I am a role model and influencer to other people around me and the girls on the younger teams. As a co-captain for two years, I have learned how to be a leader and how to encourage the people around me."