Football jamboree offers season expectations
The Northlake Christian School football team has officially ended their preseason with a home jamboree on Friday, Aug. 24. They came out with a win over Livingston, 35-10, and lost a close game to Cohen, 10-0.  The jamboree was very eventful, including two rewarding preseason games and much school spirit.
After the pre-season jamboree, a week before the season opener against Bogalusa, Head Coach Anthony Agresta commented his thoughts on how the team will recover from losing two strong quarterbacks from last season; one who graduated and one who transferred to another school.
"Well that's something a lot of teams couldn't recover from, but the chemistry of this team and how I have seen them respond to that leads me to believe that they are going to rally around the young man we have playing quarterback right now and it's going to work out really well for us before it's all said and done," Agresta said.
The players have been training everyday and have prepped to the max for this season. New quarterback and sophomore Michael Swan shared his thoughts on the jamboree.
"I thought [the game] was good. It was definitely a learning experience. We need to get better as a unit and hopefully we will win a lot of games this year. I am excited for the season," Swan said.
On the day of the Jamboree, students and coaches expressed how they expected the team to perform this year.
"I feel like we are a young team, but we have great potential if we stay healthy. I think we will do better than last season and we have a lot of room to grow and we need players to step up," junior Jake Nunmaker said.
Boys Head Soccer Coach Nick Chetta is very optimistic about the football team's future success after watching the jamboree.
"I think it's exciting for the future of the football team with all the young guys playing. They showed a lot of energy and passion for the game and they were very efficient in certain areas. And the new kicker, Ed St. Pierre, was awesome," said Chetta.
During the jamboree, the fans were lively and had a lot of school spirit. In the past, the student section has lacked spirit, but this year seems to be the opposite. During the game against Livingston, junior Olivia Russell observed this difference.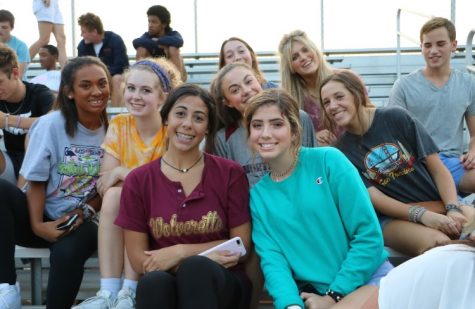 "Our student section is looking really great this year," Russell said. "These Wolverine students are just coming out and really representing. They are really loud and have lots of spirit. I'm looking forward to every single game."
The students' attitudes this year have seemed to shift from boring to exciting. Everyone was packed in the stands, and the colors of maroon and gold were everywhere.
"We are super excited for the Northlake football season. The student section at the jamboree was so fun and thrilling. It was exciting to see our boys score some touchdowns," junior Caleb Lewis said.
The football pre-season games have been a success and the students, staff, fans, and players are excited for what's next in store for the team.
The Wolverines had a first season game against Bogalusa, losing 23-10. The next game is tonight, Sept. 7 at 7 p.m. against Brusly.