Varsity Boys Soccer takes home win against rival Newman after rough first half
"Being the first team in [Northlake's soccer] program history to beat Newman in a regular season game and at their place, is very special for us and Chetta."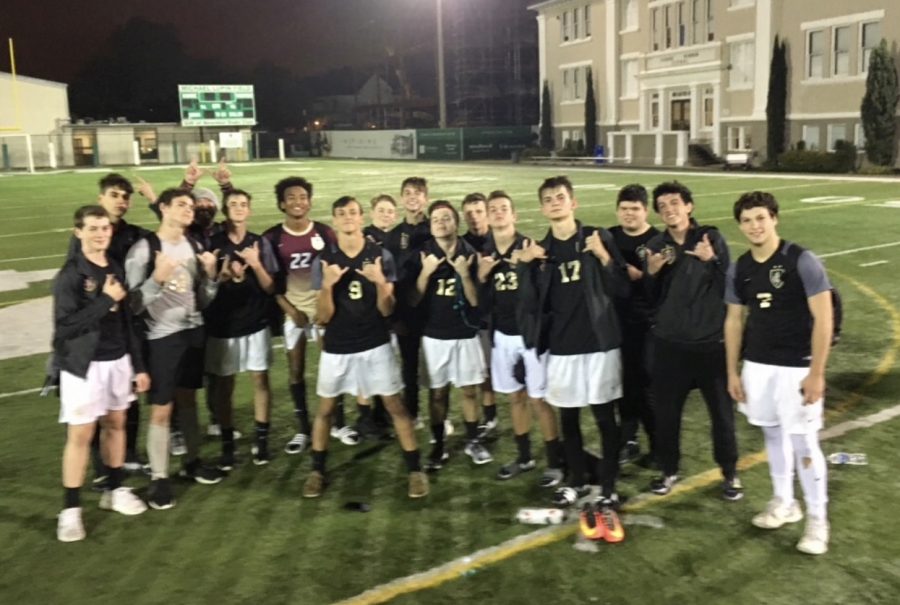 Varsity Boys Soccer takes home win against rival Newman after rough first half
Hang on for a minute...we're trying to find some more stories you might like.
The sky was dark and stormy as the Northlake Christian School boys varsity soccer team took the field against longtime rival, Isidore Newman School, beating them 2-1. The whistle was blown and the game many had been anticipating was under way on Monday, Dec. 4, 2017 after the terrible rain ceased.
"Before [the game] I was slightly nervous but forced myself to be confident and just kind of have faith that we would play hard and whatever outcome was planned for us was best for us," junior outside back Harry Fontenoy said.
The team was determined to get a win going into the game because Newman knocked Northlake out of the playoffs last season.
"I know, talking for myself, I was very determined and focused going into the game because I wanted revenge. I think that's how everyone was feeling walking into [the game]," junior center mid Garret Acosta stated.
As the game was underway, several of the Northlake players noticed they were not playing quality soccer.
"[We] played terrible the first half. Most importantly the work rate from the midfield needed to change," senior center mid Christian Palma said.
"As a team we played horrible in the first half and the midfield was not playing their best game. The defense was not tracking back," junior goalkeeper Justus Windom observed.
"We came out and played slow the first half and I think it's because we respected them too much," Acosta said.
The half dragged on and Newman was able to find the back of the net, making the score 1-0.
"After going down a goal, I was worried we'd lose our momentum because we haven't experienced a loss yet," junior center back Luke Smithson said.
"We had not given up a goal in the run of play and so I think it was an eye opener. They responded well and increased their intensity, which is what you want from a team," head coach Nick Chetta said.
Nevertheless, Northlake was quick to respond. Junior forward Titus Dillon put constant pressure, in the first half and in the 33rd minute, and caused a mistake by the Newman goalkeeper. He jumped in front of a clearance attempt by the goalkeeper and deflected the ball into the goal, tying the game and scoring Dillon his first career varsity goal.
"Considering it hit my face it hurt a lot, but it was very exciting," Dillon said.
Acosta inferred that after Chetta's halftime adjustments, the game opened up and Northlake was able to work their magic. Palma said that after they took out Newman's 'playmaker', the ball stayed consistently on Newman's half of the field.
"After [Chetta] got on us [about our bad play] at halftime and made some changes, we really took off," Fontenoy said.
Sophomore outside forward Caleb Lewis was disappointed that he was not able to convert his multiple shot attempts in the 46th minute, but was overjoyed with what happened next. Senior center mid Clayton Gill came up big for Northlake by scoring in the 66th minute of the game, giving Northlake a 2-1 lead.
"Once [Gill] had scored I knew we had won the game. We played hard defense and ended up coming away with a win. I have to thank my defense who played amazing making my job easier," Windom said.
While the players were confident they could win the game, Chetta knew to keep a cool head.
"I was excited after [Gill] scored but in the same [way] we, last year in the quarter finals, were up 1-0 with 10 minutes to go [and ended up losing]. But Clayton Gill's goal was huge. I didn't run to the corner flag or anything," Chetta said.
With the score in favor of Northlake, Newman was not finished fighting, forcing Windom to make a big save in the 72nd minute, keeping Northlakes dream of revenge alive.
As the final whistle was blown, Northlake players and fans were able to breathe a sigh of relief. Not only had they won, they had actually made history.
"Being the first team in [Northlake's soccer] program history to beat Newman in a regular season game and at their place, is very special for us and Chetta," Acosta said.
Senior center back Andrew Babineaux said that this game can give Northlake the confidence to beat other teams on their home turf.
"[To] come back from behind, to win, is a sign of a team quickly growing in experience and capability to perform in big games," assistant coach Ben Mackenzie said.
This type of rivalry game brought the Northlake boys varsity soccer team closer as a family in their quest for glory in the future.
"I'm really proud to be on this team because we hold each other accountable in a way that has brought us together like a family," Smithson said.
Windom believes that when this team plays together, they can take down anyone in their way, while Smithson thinks that this team will surprise people and can go far this season. Either way, this young and growing team has much potential and is not afraid to face challenge.
"We're actually good. We actually can beat teams ranked number one and two in the state. We didn't have our best first 15 or 20 minutes but we were able to overcome it so I think it was a confidence builder," Chetta praised.
About the Writer
Kara Lewis, Editor
Kara Lewis is a senior at Northlake Christian School and is in her second year.  She is involved in the soccer program, Key Club and is the St. Tammany...