Praise Team class allows opportunities for strong bonds, growth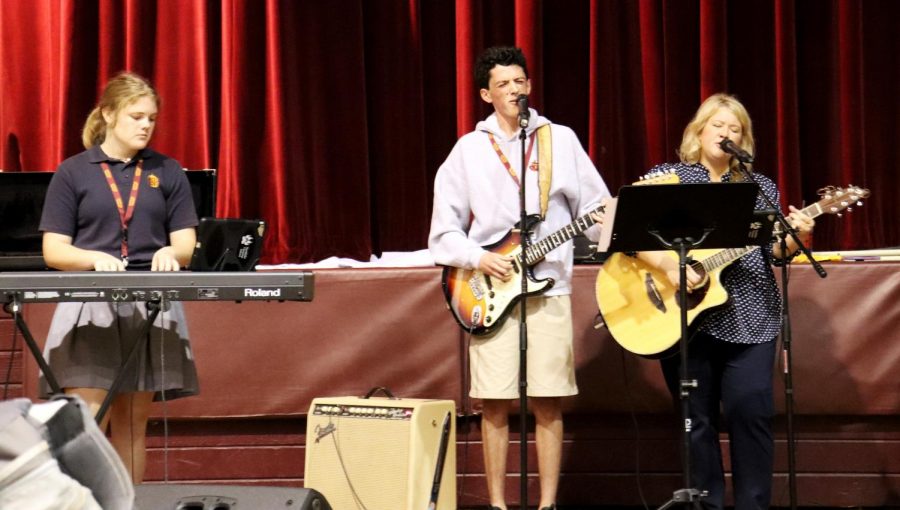 Zariana Bickham, Staff Reporter
October 31, 2017
Northlake Christian's Praise Team consists of a group of 10 students who share a passion for expressing their love for God with their voices and instruments. The Praise Team leads each chapel in song every Thursday morning.
The students involved enjoy the class because if offers an opportunity to express their musical talents.
"I enjoy being able to worship God even in class as we're practicing," said sophomore Kyren Whittington. "I love that students are able to worship God not only by lifting their hands, but by singing and playing instruments. If He gives you musical talents and abilities why not use it to praise Him and basically thank Him for those talents?"
Strong bonds between the students also occur as they are able to worship the Lord together as a class. Due to the positive and accepting atmosphere of class, students are able to form close relationships to reach beyond simply school.
"I really enjoy the connection between everyone. We are all one big family and everyone is so uplifting in all situations," said sophomore Lillian Stegen. "I find myself feeling comfortable sharing anything I am going through with people on Praise Team because I can trust them. Everyone cares so much about each other and it is an amazing atmosphere. Definitely a class I look forward to."
The Praise Team class meets during second hour. During class, students share songs suggestions and a discussion takes place. After songs are chosen on Monday, students utilize the rest of the class periods and early mornings to practice for Thursday chapel.
According to students, Thursday's are typically hectic for Praise Team because they participate not only in Upper School chapel, but every chapel scheduled for that morning.
The Praise Team students encourage others to join them if they are looking to pursue God through music.
"People should join it because we all share our musical ability and the love of God. His love is so real and is shared throughout everyone," said Stegen. "We all help out each other and it is something I think anyone looking to pursue God through their musical talent should be a part of it."
Praise Team allows students to be able to make time for God during school with their peers. During class, students enjoy a relaxed atmosphere to hone their talents and prepare for upcoming chapels.
"People should join Praise Team for the light atmosphere and to join others who also have the same passion about God and music as you do," said Whittington. "For me, praise band is my time with God during school and to sometimes relax and enjoy school while doing something I love."
Praise Team tryouts take place during the school year. To join, one must first fill out a form and then attend an interview by Praise Team teacher Kate Boudreaux.