Wolverines hold a 2-3 record as they prepare to tackle upcoming opponents
"Last game showed us that we can compete with anyone once we all do our jobs"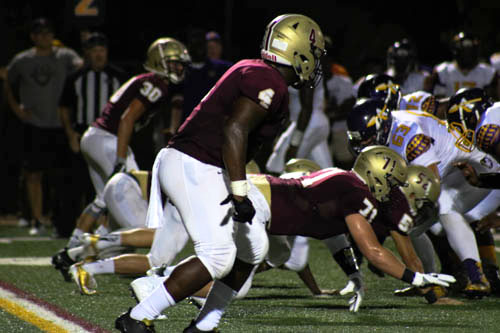 Hang on for a minute...we're trying to find some more stories you might like.
The Northlake Christian Wolverines are now halfway through their football season, and the results are not turning out exactly as they hoped, but the team is showing resilience and learning from each game. The Wolverines, with a 2-3 record, hope to even their record with a game Thursday, Oct. 5 at Independence.
Before the season, players and coaches discussed the result of the pre-season jamboree game. A week before the season opener against Bogalusa, Head Coach Anthony Agresta commented on his outlook on the jamboree and his expectations for the season.
"Although the jamboree we played was not the outcome we wanted, we still won and that's good," said Agresta. "We have things we need to fix, but that's why there's jamborees and practice in between games."
Northlake began the season losing to Bogalusa in a shutout, 31-0. Northlake quickly turned that loss around the following week on Sept. 8, beating False River 47-27.
"The team chemistry seems to be falling into place," said senior lineman Josh Holloway. "It's almost like Cohen and Bogalusa shocked us, and we were ready to come back. That's what we did against False River."
With a positive attitude, the 1-1 Wolverines were ready to travel to Pascagoula, Mississippi, to face Resurrection Catholic on Sept. 15.
"Two games are in the books now," stated Offensive Line Coach Mark Robert. "Although we never thought we'd be a 1-1 team, we are, and we are going to fix that. Practice has been good, and we can't wait to travel out of state to see how this week's practice has prepared us."
The Wolverines traveled to Mississippi ready to win. However, this non-district game slipped from the hands of the Wolverines, losing 21-2 against Resurrection Catholic.
"This is not what I want for my senior year," said senior lineman Daniel Hickey. "I want to win and win greatly. We will do whatever it takes to win in practice, and we will win."
After the loss to Resurrection Catholic, Northlake prepared for the first district 8-2a game against Springfield.
"[This game would] determine the hype for the season because it's a district game, and there's a certain level of excitement in district play," said senior running back Wesley Brown.
The Wolverines did just that, shutting out Springfield 21-0.
"This was the game we needed to win, and we did that. We have a tough opponent coming up, but I believe, and the team believes, that we will win," said Brown.
Northlake hosted Amite the following Friday on Sept. 29. Amite is a new district 8-2a opponent, stepping down a class from 3a. Amite lost the state championship last year 40-36. Some members of the Wolverines were worried about this team since they have five and 4-star college prospects. Although the Wolverines lost, they were able to hold the Amite warriors to 13 points, losing 20-7.
"[I believe] we had a great performance, I'm not saying we didn't. There were mistakes we made that cost us the game," said Hickey.
Despite the loss, the Wolverines played hard and showed their ability as a team.
"We started off slow, but last game [against Amite] it showed us that we can compete with anyone once we all do our jobs," said junior receiver Poppie Duke.
The Wolverines are playing tonight, Oct. 5, against Independence. They will then play another away game next Friday, Oct. 13 against St. Thomas. The following game will be the Homecoming game against Pine on Oct. 20.
About the Writer
Zac Ballard, Staff Reporter
Zac Ballard is a senior at Northlake Christian school and is part of the journalism staff. He plans to go to Southeastern Louisiana University to study...