Academic Dean "Lightning McCune" shares story and quirks
Hang on for a minute...we're trying to find some more stories you might like.
Academic Dean Matt McCune is in his fourth year at Northlake Christian School, is Head Coach of the Boys Basketball team, and teaches ACT Prep.
Born and raised in Baton Rouge, Louisiana, McCune was involved in sports from a young age.
"I played basketball, did pretty well in school, hung out with friends, and went to LSU games on the weekends," said McCune, describing how he was in high school.
After high school, McCune attended college at LSU for 4 years and was in the Kappa Sigma fraternity.
"It was between Georgia and LSU, but TOPs was really hard to pass up on. I love that I went there," said McCune. "While it was nice for a couple years because I met most of my close friends now that were in the fraternity with me, it gets kind of old."
McCune also met his wife at an LSU tailgate and has been married to her for over four years.
"We're very similar in many ways. She's fun, organized, care-free," he elaborated.
McCune still enjoys attending LSU games on weekends. When he is not doing that, he is fishing with friends or taking his dog on walk with his wife.
Before coming to Northlake, McCune was an assistant basketball coach at Episcopal.
He first became aware of Northlake because he had coached against the school in the playoffs two years prior to coming here.
McCune aspired to become a head coach somewhere.
"The day I went to look at a website where you can see head coaching jobs available was the first day they had posted [about the available coaching position]. I came and applied, felt at home, and here I am," explained McCune.
McCune's favorite part about being a coach is connecting with his players.
"My players, getting to know my players on a whole different level than I can in the classroom or in the hallway," he explained.
Similarly, McCune loves getting to hear the stories of and getting to know the students at Northlake.
"Interacting with y'all, hearing the interesting tales of y'all's sad social lives, playing therapist at times, seriously, that's the best part," said McCune.
McCune is undoubtedly a popular faculty member and favorite among the students at Northlake. Dubbed Lightning McCune by students (a play on the movie character Lightning McQueen from the movie series Cars), he can be seen as an ally of the students, someone that students can go to if they ever need help with something or need to rant about life.
It was this connection with students in particular that stood out to Upper School Principal Jenni Vega years ago while they were both in the Middle School.
According to Vega, she purposely hires people who are strong in areas where she is not. She found this in McCune, who she recognized to be detail-oriented and strong in the maths and sciences.
"I also hired him because he has a great ability to build relationships with the kids," said Vega.
Back when Vega was the principal in the Middle School, she had hired McCune to teach fifth and sixth grade math.
One day she witnessed McCune do something special.
"My office was right outside of his classroom door, and I heard a kid out there crying and somebody out there talking to him and so I kind of looked out and there was a little fifth grade boy crying, and Mr. McCune was just on his knees talking to him and praying for him in the hallway, and I thought to myself, 'How many grown men would do that just because they care about the kids?'" said Vega.
While McCune is loved among staff and students, he also has a jokester side that comes out for some.
According to Middle School teacher, Cheer Team Coach, and friend Cally O'Connor, McCune is not only supportive and loyal, but weird.  
O'Connor's first conversation with McCune happened in a meeting at school.
"He looked at me and held up an orange marker and was like 'This is an orange marker.' And I was like 'Yep, this guy's weird.' Come to find out, he's color blind, and he was just testing to make sure that he knew it was in fact orange, and then we became best friends after that," explained O'Connor.
Among being color blind, McCune also has a hidden talent unknown by many.
"My nephew really likes Elmo. The TV was broken one day, and my nephew was freaking out and crying. For some reason, I said (in an Elmo voice) 'Elmo loves you.' And so I was doing that to help my nephew stop crying, and it was like 'oh my gosh,' that sounded really real and it kind of creeps me out," said McCune.
The Growl highly encourages you to ask Coach McCune to demonstrate his Elmo impersonation the next time you see him.
While McCune did not envision himself being in the position he is in today, he is extremely thankful to have found himself at Northlake working with teachers and students.
About the Contributor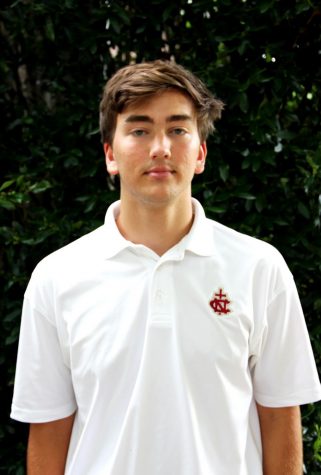 Colton Leggett, Reporter
Colton Leggett is a junior at Northlake Christian School and is a member of the football team. This is his second year writing for The Growl. His main...